Just browsing Wikipedia for the birth dates today. I just could feel someone I like as much as Leonardo (in a different way) was born today... I was right!
Eden Abhez
, an amazing advocate of healthy living and hippie lifestyle when it wasn't necessarily "cool" or known to be healthy or a hippie. He was also one of the original "Nature Boys," (I am doing an entry about them and one of their founders Gypsy Boots) a group of young men who left everything they knew in turn for a simple life in nature in the late 1930's early 1940's. Eden wrote a hit song for Nat King Cole called "Nature Boy." The story of how that song got to King Cole is actually quite endearing. You can watch the story
here
. He was living with his family, camping under the "L" of the Hollywood sign when the song shot to #1 on the Billboard charts in 1948. A wandering gypsy with no intentions of being rich or famous.
If you have never heard the song "Nature Boy," it is something we should all listen to. It's very short and the message is priceless:
According to a few sources, "Eden claimed to survive as a vegetarian on three dollars a week, and stood on street corners in Hollywood lecturing on vaious Oriental forms of mysticism." He had nothing but his sleeping bag, a bike and a juicer. HAHA! My kind of man! What a beautiful soul.
I found two interesting Youtube videos of him:
I am posting some photos (including the one above) from this
website.
and here's one of him and the Nature Boys: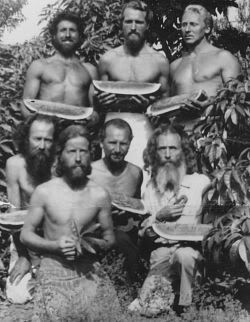 R.I.P