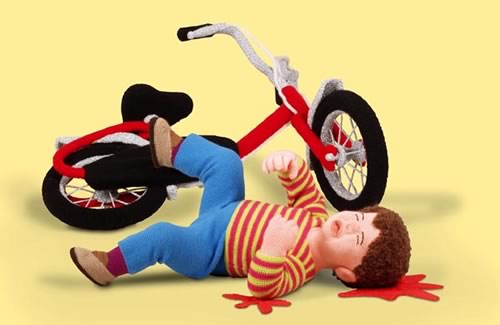 So I have been trying to be eco-friendly the past couple weeks by riding my bike to anywhere and everywhere possible. Last night, my boyfriend Michael and I rode our bikes to the Westside Pavilion to see a movie, followed by a visit with our friend Louise (who just got engaged! - nice rock!) at Pinkberry on Olympic and Sawtelle. Around 10:30pm we started to head home. At one block east of Olympic and Sepulveda I felt pretty darn risky (without my helmet) and decided to peddle super fast when BAM! a 15 year old boy on a bike turned the corner and hit me head on... his head on to my face. We both fell to the ground (thankfully grass) and just layed there for a good few seconds, me with my eyes closed wondering what the hell just happened. I opened my eyes to major face pain and muscle aches, possibly minor brain damage. Poor kid was injured too - but both bikes are doing just fine. I must say, to watch that in action must have been priceless. And Louise, thanks for picking us up and taking us home.
How to stop the bruising tomorrow - - Read this
article
.
...And wear a helmet when bike riding.