Remember I wrote about
eden ahbez
a while back?! Well, my new friend, Jeremy Rendina, also wrote a piece on eden for
StopSmiling
.




eden ahbez
by: Jeremy Rendina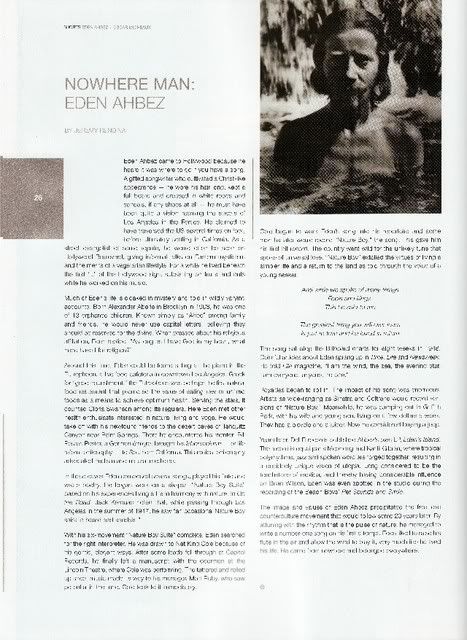 eden ahbez came to Hollywood because he heard that is where to go if you have a song. A gifted songwriter who cultivated a Christ-like appearance - he wore his hair long, kept a full beard and dressed in white robes and sandals, if any shoes at all - he must have been quite a vision roaming the streets of Los Angeles in the Forties. He claimed to have traversed the US several times on foot, before ultimately settling in California. As a street evangelist of some repute, he would often be seen on Hollywood Boulevard, giving informal talks on eastern mysticism and the merits of a vegetarian lifestyle. For a while he lived beneath the first "L" of the Hollywood sign, subsisting on fruits and nuts, while he worked on his music.
Much of eden's life is cloaked in mystery and told in wildly varying accounts. Born Alexander Aberle in Brooklyn in 1908, he was one of 13 orphaned children. Known simply as "ahbe" among family and friends, he would never use capital letters, believing they should be reserved for the divine. When pressed about his religious affiliation, eden replied, "As long as I have God in my heart, what need have I for religion?"

Around this time, eden could be found sitting at the piano in the Eutropheon, a live food cafeteria in downtown Los Angeles. Greek for "good nourishment," the Eutropheon was perhaps the first natural food restaurant that promoted the value of eating raw or unfired foods as a means to achieve optimum health. Serving the stars, it counted Gloria Swanson among its regulars. Here eden met other health enthusiasts interested in natural living and yoga. He would take off with his newfound friends to the desert caves of Tahquitz Canyon near Palm Springs. There he encountered his mentor, Bill Pester. Pester, a German émigré brought his lebensreform - or life-reform philosophy to the wilds of Southern California. This radical philosophy advocated nudism and natural medicine.
In these caves eden composed many songs, played his flute and wrote poetry. He began work on a six-part "Nature Boy Suite" based on his experiences of living a life in harmony with nature. In On the Road, Jack Kerouac noted that while passing through Los Angeles in the summer of 1947 he saw "an occasional Nature Boy saint in beard and sandals."

With his six-movement "Nature Boy Suite" complete, eden searched for the right interpreter. He was drawn to Nat King Cole because of his gentle, elegant ways. After some leads fell through at Capitol Records, he finally left a manuscript with the doorman at the Lincoln Theatre, where Cole was performing. The tattered and rolled up sheet music made its way to his manager, Mort Ruby, who saw potential in the tune. Cole took to it immediately.
Cole began to work eden's song into his repertoire and some months later would record "Nature Boy," the song. This gave him his first hit record. The country went wild for the unlikely tune that spoke of universal love. "Nature Boy" extolled the virtues of living a simpler life and a return to the land as told through the voice of a young seeker.
And while we spoke of many things
Fools and kings,
This he said to me

"The greatest thing you will ever learn
Is just to love and be loved in return."

The song sat atop the Billboard charts for eight weeks in 1948. Colorful articles about eden sprang up in Time, Life, and Newsweek. He told Life magazine, "I am the wind, the sea, the evening star. I am everyone, anyone, no one."
Royalties began to roll in. The impact of his song was enormous. Artists as wide ranging as Sinatra and Coltrane would record versions of "Nature Boy." He was camping out in Griffith Park, with his wife and young son, living on a few dollars a week. They had a bicycle and a juicer. Now he considered buying a jeep.
Years later, Del-Fi records published ahbez's own LP, Eden's Island. The record is equal parts Moondog and Kahlil Gibran, where tropical polyrhythms, jazz, and spoken word are forged together resulting in a decidedly unique vision of utopia. Long considered to be the touchstone of exotica, and thereby having considerable influence on Brian Wilson, eden was even spotted in the studio during the recording of the Beach Boy's "Pet Sounds" and "Smile."
The image and values of eden ahbez precipitated the free love counter-culture movement that would follow some 20 years later. By attuning with the rhythm that is the pulse of nature, he managed to write a number-one song on his first attempt. eden liked to raise his flute in the air and allow the wind to play it, very much like he lived his life. He came from nowhere and belonged everywhere.

-
... and once again, the YouTube video of Nat King Cole singing Ahbez's hit, "Nature Boy."