... for me anyway is Nature's Gate: Autumn Breeze!!!
After what seemed like eons of smelling bad while in search of the perfect natural/organic deodorant, I think I have finally found nirvana for my under arms with: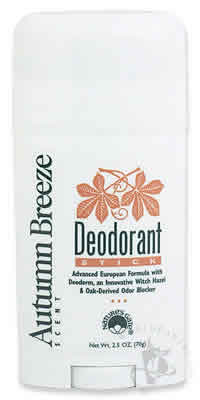 This should please my fellow blogger,
Vulpinious
!!!!! I have been using this for months, and it's potency has stayed the same. Everyone is different, it took a lot of research to figure this out.
If you're not using natural products, you might want to start. Just as an example, aluminium which is found in most deodorants, effects the
blood-brain barrier
, has been linked to breast cancer and can cause DNA damage. Paraben, another popular ingredient in most deodorants, is a preservative. Traces of it can be found in tumors of breast cancer patients. Of course the cosmetic industries say there's nothing unsafe about paraben because it is an inexpensive preservative and most cosmetic companies are not in it to better the health of their customers, their in it for profit. I am least likely to believe the "scientific tests" performed by cosmetic companies since they seem to be tampered with just to please the consumer. Well, screw them. It's for these reasons alone that you should consider taking the time to find chemical-free products - - that goes with cosmetics, cleaning supplies, etc.
Don't believe everything you read.
Here's some information I found on Nature's Gate Autumn Breeze Deodorant:
Advanced European Formula with Deoderm, an Innovative Witch Hazel & Oak-Derived Odor Blocker.


Autumn Breeze Scented Deodorant
Created from advanced research from Europe, Deoderm™, a blend of natural actives found in Oak gall & Witch Hazel extracts, is effective in controlling odor-causing bacteria. Combined with other odor preventing botanicals, such as Myrrh & Sage, our exclusive formula gives you safe, gentle protection and that shower fresh feeling throughout the day. Contains no aluminum chlorohyrate. Gentle, natural, effective, and biodegradable.
Supplement Facts
Serving Size: 0
Servings per Container: 0
Other Ingredients: Propylene glycol, purified water, sodium stearate, witch hazel extract, cocamide dea, oak gall extract, glycine, arginine, leucine, extracts of eucalyptus, sage & myrrh, fragrance oils.
Contains no aluminum chlorohydrate. Produced with no animal by-products.
Statements contained herein have not been evaluated by the Food and Drug Administration. These products are not intended to diagnose, treat and cure or prevent disease. Always consult with your professional health care provider before changing any medication.